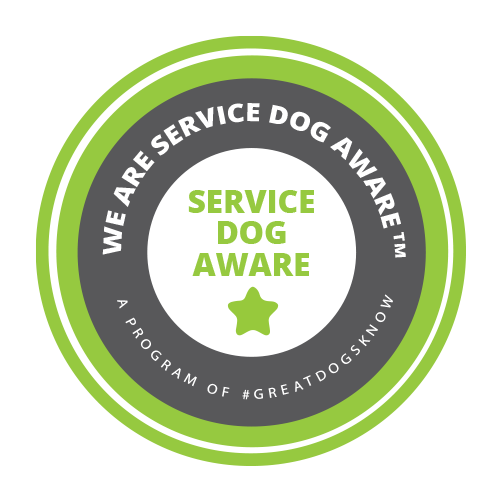 Service Dog Aware™
Establishing a community of partners that provide unobstructed access to goods and services for all.
This video and text excerpt is courtesy of the Miami Valley News.
Program helps businesses interact, accommodate people with service dogs
TROY, Ohio (WDTN) — A new program launched in the Miami Valley is helping people understand how to react with service dogs.
It's called Service Dog Aware, and it's also designed to cut down on people bringing their pets into businesses where they're not allowed.
For Jenni Lough Watson, Myles, a three-year-old Rough Collie, is like her GPS.
What Does it Mean to Be Service Dog Aware?
Your company can take the initiative to become well informed and ensure a safe and accommodating environment for all patrons with consideration to individuals who rely on trained service dogs.
Service Dog Aware is a practical, real-world learning experience that informs people about dogs in public places with an emphasis on service dog access rights across the community.
Service Dog Aware utilizes interactive information, paired with real world scenario learning resulting in organic alignment to established local and federal regulations.
Service Dog Aware Partners will:
Understand the impact of trained service dogs in the community

Become certified in your understanding and application of service dog policies and laws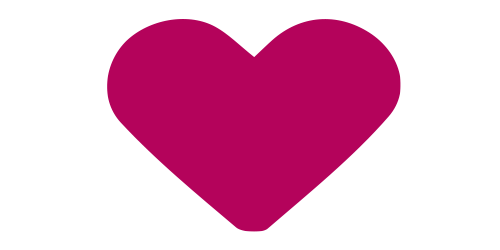 Co-create company policies and procedures for dog access to your business location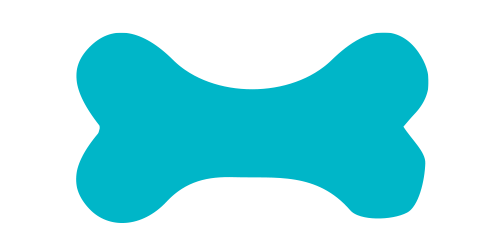 Learn language needed to qualify whether an animal is a pet or a fully-trained service dog
Learn how the law defines and differentiates between fully-trained service dogs and pets

Learn critical, relevant, and up to date information related to service dog access laws aligned with established Local, State, and Federal (Americans with Disabilities/Department of Justice) regulations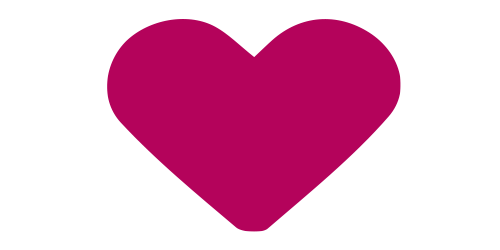 Learn the Points of Difference between dogs that have access required by law, and pets that wear vests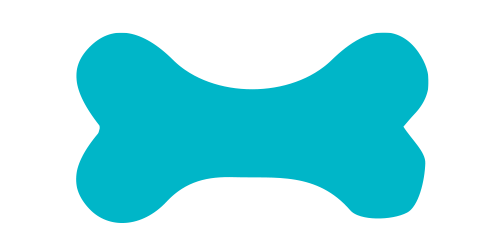 Understand the role reasonable accommodation plays in public access
Share peer-to-peer support benefit of being a more service dog aware community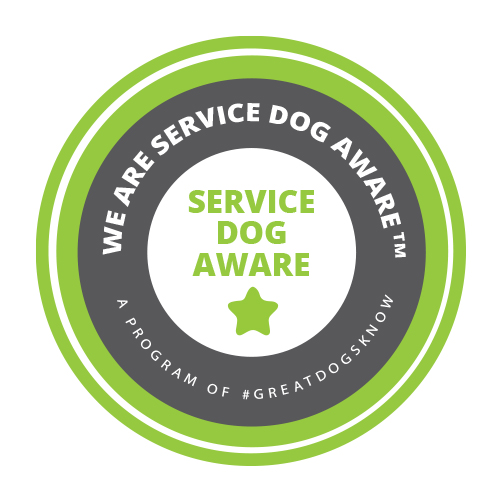 A practical, real world learning experience that informs businesses about dogs in public places, with an emphasis on service dog access rights.
Customized, interactive, self-paced, peer-to-peer.
Result is a tool-kit for businesses and public agencies to better serve our community.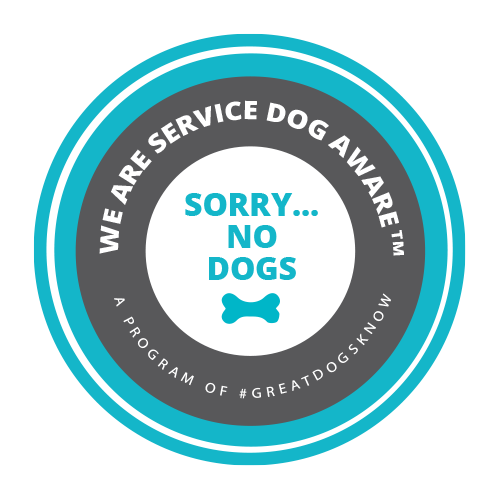 Consistently does not allow pets and are predictably consistent in enforcing this policy
Are trained on ADA aligned questions which can be asked to filter-out untrained pets which not protected under the ADA
Proficient in a no pets policy, while making appropriate exceptions regarding the access rights of service dogs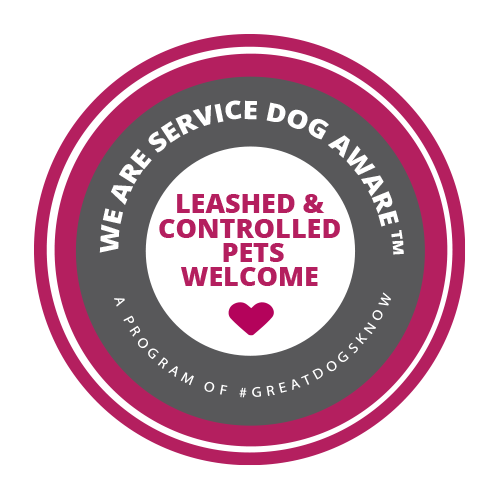 Leashed and Controlled Pets Welcome
Chosen to allow pets in the establishments and aligns with all local and state laws regarding leash laws and health regulations
Has earned proficiency and is prepared to engage in potentially difficult conversations when a pet is observed unruly, disruptive, or not in direct control of the owner/keeper. Feel empowered to ask the patron to remove the dog from their premises.
Proactively manages dogs on site to allow priority access to accommodate service dogs and their handlers clear, unobstructed access to goods and services.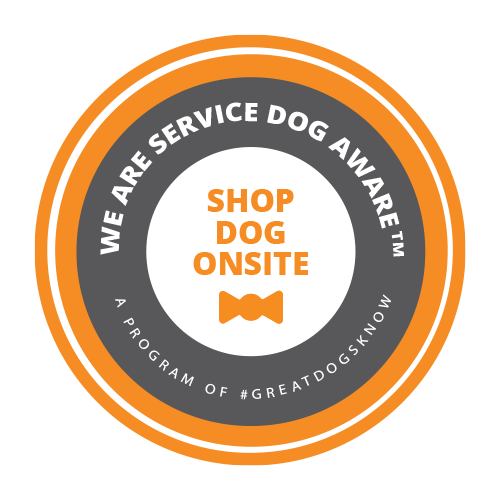 A Shop Dog may be on site at any time – keeper/harborer of shop dog has established a written plan for which to create a mutually safe experience for all shoppers.
Shop Dog Keeper/harborer agrees to maintain the dog's space securely behind the counter, out of the way of aisles, goods and services and to allow a safe, and accessible environment during store hours.
Keeper/harborer of shop dog agrees to uphold service dog access rights by providing priority, unobstructed access to goods and services by securing shop dog away from aisles and areas otherwise accessible to the public.
Keeper/harborer of shop dog agrees to keep dog under control and at all times directly supervised, regardless of the nature of shop dog.
Through Service Dog Aware™ keeper/harborer has gained proficiency in shop dog management, while a pet or service dog is on site by securing shop dog to allow for unobstructed, access to goods and services.